30 Years
Advising HOA Boards with Professionalism, Training, and Proper Insurance

Licensed & Insured
Professional Liability Insurance—$2M
General Liability—$2M
Fidelity Insurance—Over $132M

Accredited
We are proud to be recognized in the top 1% of all association management companies in California.

Avid Involvement
Active members of Community Associations Institute (CAI) and its National Reserves Standards Committee.

Founding Figures
Founding members of the Association of Professional Reserve Analysts (APRA) and currently serving on its Board of Directors.

Recognized Expertise
Professional Reserve Analyst (PRA) & Reserve Specialist (RS) designations.
HOA Developer Transition Set Up and Management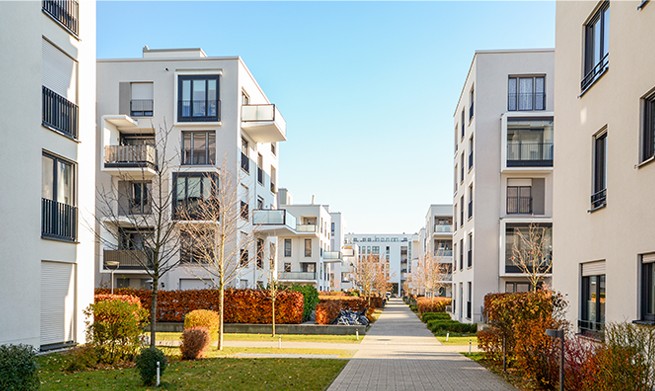 Preparing for first time sales within a developing community can be a very time consuming and exasperating process.
90% of the problems encountered with newly developed homeowner associations can be attributed to common errors and oversights which occur during the set-up process.
Finding a community association management company that knows the requirements, is an expert at setting up documents and who can build a proper database for first time sales is crucial to launching an association that runs smoothly throughout the construction and sales process.
We specialize in forming the HOA developer transition, ensuring that it is set up and run properly under your watch on the Board of Directors.
Association Structure
The birth and management of a new community is uniquely different than managing older, existing associations. While the developer controls the Board of Directors, they also must ensure that the Association complies with all Civil Codes, that the developer stays at arm's length from potential conflicts of interest, and that everything operates in accordance with DRE requirements. Maintenance walk-throughs are major events, a single error in adopting the association's budget can invalidate the public report, and myriad well-meant activities can materially change the offering.
Association Management
We have extensive experience in setting up and providing early-stage management to associations of all types: condominiums, town homes, high-rises, master planned communities. Our managers are specifically trained to understand this special world of the new association. While working to guide you through the perils listed above, they are equally concerned with forming a solid, new community with homeowners who are proud of where they live.
Maintenance Acceptance Walkthrough 
The Maintenance Acceptance by the association is always a difficult issue in the life of a new association. Typically, the association does not understand that they own the property already, and that the "acceptance" is primarily to obtain an arms-length, third party opinion on the state of the property at the time of transfer. Our company is uniquely qualified to conduct such walk-through inspections. Because we specialize in Common Interest Developments from all aspects, we understand the human concerns of all parties as well as the construction issues. 
Whether you are a developer, or a representative of a homeowners association, we can answer any questions you might have about the HOA developer transition structure, governance and management.
DRE Budgets for All Types of Projects
Using our copyrighted Reserve Asset Management Program—RAMPSM and our extensive knowledge of association budgeting for all types of projects, we produce the most thorough budgets available. Because we also prepare budgets and Reserve Studies for existing associations using the same methodologies, you can rest assured that you will receive a reasonable budget which materially represents your project without "low-balling." We have produced thousands of DRE budgets over 30+ years in the industry and have experience in all types of budgets:

Large Increment Assessment Procedure
Attached Planned Developments

Joint Use Maintenance Budgets

Detached Single Family Homes

Master Planned Communities

Residential/ Commercial Mixed Use


With the passage of Senate Bill 800 (SB800), it has become critically important for the homebuilder to instruct community associations
about their maintenance responsibilities. SB800 is a consumer protection and right-to-repair law, which establishes a detailed set of
construction standards, disclosure requirements, and procedures for handling claims.
Under SB800, the builder must provide the Association with thorough and properly documented maintenance procedures for all common area elements. Without the right documentation, lack of maintenance cannot be used as an affirmative defense in the event of a lawsuit. As everyone is acutely aware, frivolous construction defect litigation has proliferated in recent years. It has never been more important to provide all the correct information from the very beginning of the project.
To confer the level of protection you should demand, your maintenance manuals must be customized for the community.  SB800 requires that you provide not only commonly accepted maintenance obligations, but also the specific manufacturer's recommendations for each manufactured component the Association is responsible to maintain.  This necessitates a complete understanding of the relevant manufacturers' literature, not just for building components such as siding and roofing materials, but also for other components such as electrical and mechanical systems within the building, fit and finish products, amenities, and outdoor components such as landscape features and the irrigation system. 
Considering these requirements, you will find that not all maintenance manuals are created equal.  Many companies will provide you with a volume of material that turns out, upon closer inspection, not to meet SB800 requirements at all.  Too often, they do not perform the in-depth research to include all the specific manufacturers' maintenance recommendations required.  Such "generic" manuals potentially do more harm than good. They often conflict with the manufacturer's maintenance recommendations for a particular product and afford the developer no protection should the manufacturer's instructions be violated. 
Our maintenance manuals are expressly designed for SB800 compliance and fully customized for each development, including:
Maintenance recommendations concerning all significant components the association should maintain. 
Manufacturers' recommendations, warranties, and specifications are included where applicable.
Each building component is linked to the appropriate California Civil Code functionality standard (s) (unless you have opted out of the Civil Code standards, or the project is not located in California). All applicable performance standards and corresponding timelines are included for each component.
Educational information concerning often-misunderstood issues pertaining to construction will be included to assist the user in understanding what to expect.  For example, an explanation that minor cracking in stucco is to be expected, and what causes such cracking.
An ongoing maintenance plan and checklist to assist the Board of Directors and association manager in performing maintenance in a timely manner, keeping the necessary records, and managing the association's vendors.  Ease of planning increases the likelihood that maintenance will be performed as scheduled.   
Manuals for the separate interests (homeowner manuals) are also available.
Maintenance Manuals for All Type of Communities
We are licensed general contractors, with extensive experience creating maintenance manuals for all types of communities, including:

High-Rise and Standard Condominiums

Detached Single Family Homes

Attached Planned Developments

Residential/ Commercial Mixed Use Projects
In addition, our company has the benefit of longstanding expertise with budget preparation and HOA management.
Our many years of experience in overseeing and budgeting for common area maintenance enable us to design manuals that are consistent with a sensible budget and current with today's commonly accepted maintenance practices. Your customers will remain happiest with their purchase over the long run when the community is maintained in a timely manner and in first-class condition.

We make providing a quality maintenance program one of the easiest things you can do to protect your investment in a new project.
We invite you to request a proposal today!
Looking for maintenance manuals that are in compliance with SB800?
See What Our Customers Say

The Helsing Group has grown to know our unique association well and is being diligent in pursuing and resolving issues. They provide professional advice to members and are an asset to the community."
A.L.
The Helsing Group is doing a good job at managing our community's affairs. Our service rep is pleasant to deal with, and consistently showing us his and the company's value when it comes to researching and solving problems raised at meetings, etc."
H.O.
Helsing Group staff have been extremely responsive and are a great help to our association. We appreciate their good work!"
A.A.
The Helsing Group has been supporting our HOA for some time now. Our managers are responsive, personal, level-headed and professional. Their guidance has been outstanding thus far."
A.H.